Film Destination #5: Japan.
Only Yesterday (1991), Dir. Takahata Isao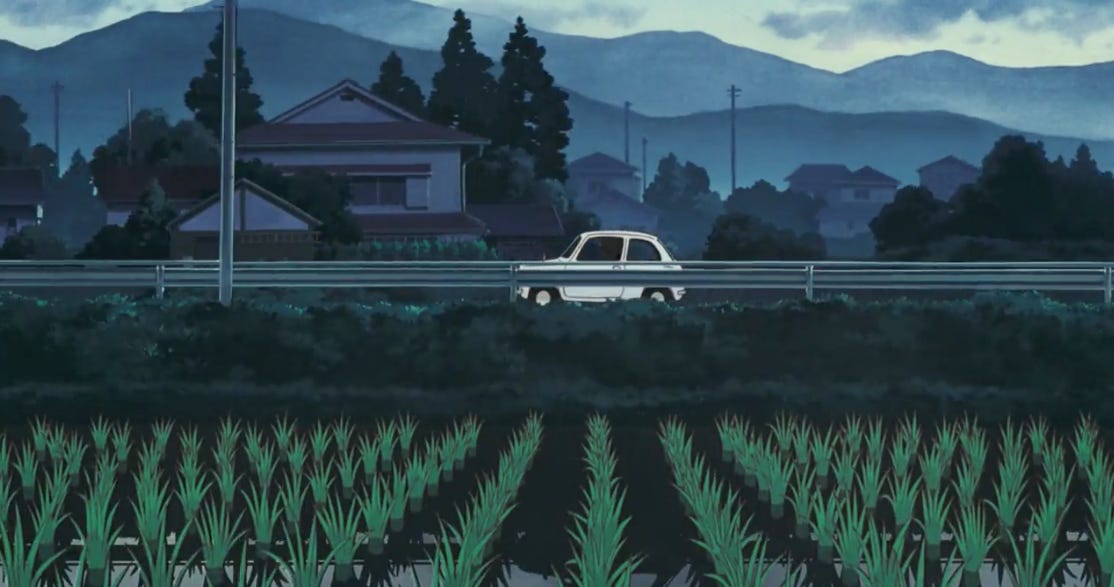 In an interview, a writer shared their method for overcoming writer's block: "Write what you know well." Daily habits. The walk to the kitchen from your bedroom for a glass of water or morning coffee. A frequented path, an etched memory, a static landscape.
There are many recommendations for overcoming writer's block; this seems to combine all into one. Words enter without fear, followed by what is truly waited upon: unsettled emotions, unfinished thoughts, anything just out of reach.
I chose Only Yesterday because I haven't written for weeks, and I craved something warm and familiar. This is a film I have watched several times, always by myself. Like a wall penciled in with the jaggedly measured heights of growing siblings, every few years I measure myself against Taeko, the film's protagonist. I am slowly catching up to her, understanding her, relating more to her late 20s adult self.
Taeko is a born-and-raised city dweller who was always deemed abnormal. A Marvel or Disney movie might have inflated her differences to show the world what a needed treasure she is. Instead, wagamama (selfish, disobedient) Taeko grows up to be an easy-going independent adult, her stubbornness still in existence, but gentle. She has a normal office job in Tokyo and is true to herself in her own quiet ways. At the same time, she appears to be a wandering soul, uncertain of what problems she's dealing with or what answers she's looking for.
As a child, all of Taeko's friends had grandparents in the countryside to visit during summer break. Her fantastic imagination of what that must be like, coupled with her eccentricity, grows into an adult hobby of visiting the countryside to learn various agricultural traditions.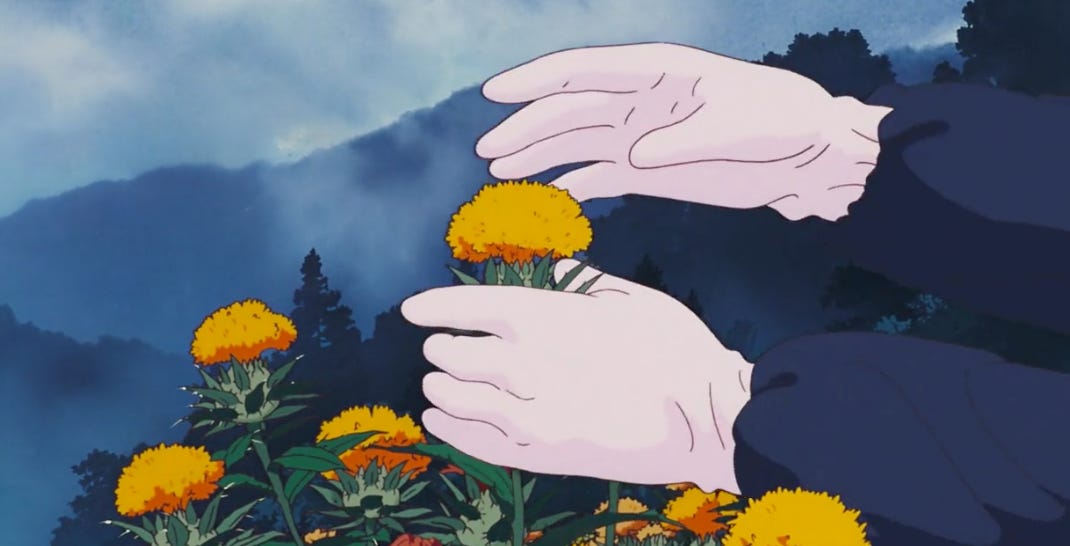 Taeko goes on vacation to help harvest safflowers for dye and becomes close with Toshio, a local who listens to Hungarian folk music and does yuuki nouhou (essentially organic farming). During the trip, Taeko is overtaken by a wave of memories from the 5th grade. In one scene, Taeko recalls getting a 25 on a math test, not understanding the process of dividing fractions and not wanting to blindly follow instructions. "Those who can smoothly divide fractions, go on to smoothly live life," she shares with Toshio, who is frequently the secondary receiver of Taeko's memories.
Chekhov's gun is a well-known writing principle: "If in the first act you have hung a pistol on the wall, then in the following one it should be fired." In contrast lies the red tea kettle of director Ozu Yasujiro's film, Equinox Flower. The kettle appears in various scenes in various locations, in the hallway, on the stove, by the table, etc., and yet it is not needed, only appreciated. The story will not fall apart without the tea kettle. But the kettle is what people talk about.
Only Yesterday is full of these kettles, full of scenes and beauty that don't have a point, yet somehow lead us into a grand finale.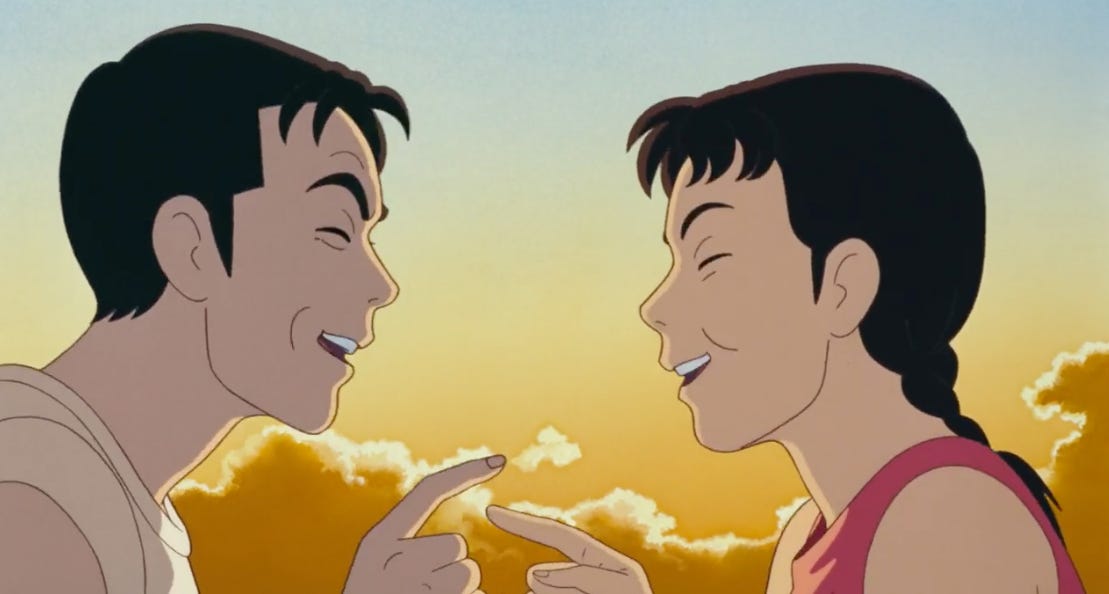 Final note:
Takahata began the filmmaking process with the audio and had the voice actors be filmed so that the animators could use them as models for the characters' facial expressions. This really contributes to the scenes of Taeko and Toshio together!
Next…who knows,
Elisa
(Only Yesterday is available for purchase on Amazon Prime. Kid-appropriate, although there is a lengthy scene in which 5th graders learn about the menstrual cycle!)