Film Destination #1: India.
Rab Ne Bana Di Jodi (2008), Dir. Aditya Chopra
Hi!
If you had, at most, 8 hours a day to watch every film starring Shah Rukh Khan, it would take 1 month of unprecedented devotion. Besides being the richest actor in the world and the undisputed king of Bollywood, Shah Rukh Khan is a childhood love of mine alongside Captain Picard and Peter the goatherd from Heidi (animation version). So it's only fitting that he be the star of film #1, Rab Ne Bana Di Jodi.
My family's DVD collection is pathetic, but what's cool is that 90% of it is Bollywood, and I personally like that 100% are bootlegged copies from local Indian grocers. I have only happy memories of my Japanese Jewish family coming home with oil-dripping tongue-on-fire samosas, frozen malai kofta, spices for my mom's delicious version of biryani, aloe juice, and several new films to add to our stack. At first we'd accept any recommendation, but very quickly my family developed acquired tastes: Yash Chopra- ofc, Aishwarya Rai-yes pleaaase, Bachhan- so intense but always yes, Hrithik Roshan - yes because he's a stud even though the film prob won't be that good, Shahid Kapoor - who is that again? Oh, Jab We Met guy, yes! Okay…so nevermind, I guess we basically watched anything.
To fully appreciate Rab Ne Bana Di Jodi probably requires knowledge of Hindi and being Indian. To love it, I think requires having seen enough Shah Rukh Khan films to be already under his spell. The reason is this: Rab Ne Bana Di Jodi is a story about the awkward lame shy Suri, who is all of a sudden married to his deceased former professor's beautiful happy-go-lucky daughter, Taani. Shah Rukh Khan, as Suri, has basically never looked this lame before (he intentionally lost muscle for the film), so the transformation just isn't as rewarding if you don't understand how cool Shah Rukh Kahn is.
Taani is unhappy and uninterested in falling in love with Suri, while Suri is in love from Day 1. They continue their days mildly, until Taani signs up for dance classes and Suri decides to crash it incognito as bold and full of life Raj, to make Taani fall in love and smile since she won't with his real self, Suri. It's basically a love triangle, but the two dudes are the same dude and the love interests are already married. Why not?
(Hahaha glad you asked. Suri is a mellow pal who's trying to help a typically happy person feel happy again. So he feels the need to create an extra happy alter-persona to help her. Is that really how people work? Do we need to be bubbly, extroverted, love-proclaiming to help others out of the pit? Asking as an awkward mellow person living with two new housemates very full time now.)
But this isn't an arthouse film meant to deal with all that - what makes this film good is the reason my dad loves it. Ignoring the Suri/Raj red flag, the love is sweet. There's a jazzy tune that plays every time Suri's heart stirs, which is often for reasons as simple but beautiful as getting to carry a lunch thermos from his wife to work every day. There's talk about love never needing to be paid back. About loving someone because you see God in them.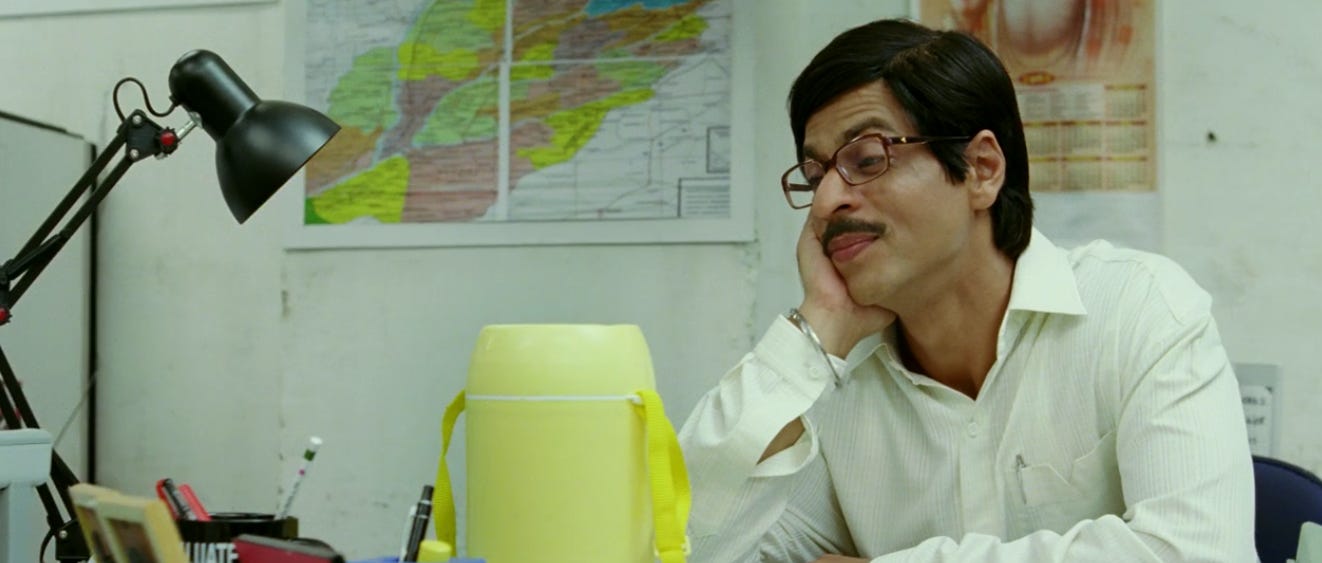 Final notes:
Suri's a respectful dude and uses -ji at the end of lots of words. Expanding beyond the Japanese -san, it's interesting to observe all the ways -ji can be used. It can be added to a name, like Taani-ji, added to a phrase said to someone, like all yours-ji, sorry-ji, and used to imply, "I understand."
And check out these Gol Guppas (or panipuri, the common name outside of Punjab, where the movie is set). A popular street food, it's fried shells filled with potatoes and chickpeas and served with a mint sauce. Each of those plates would be about 25 cents. I want to try!!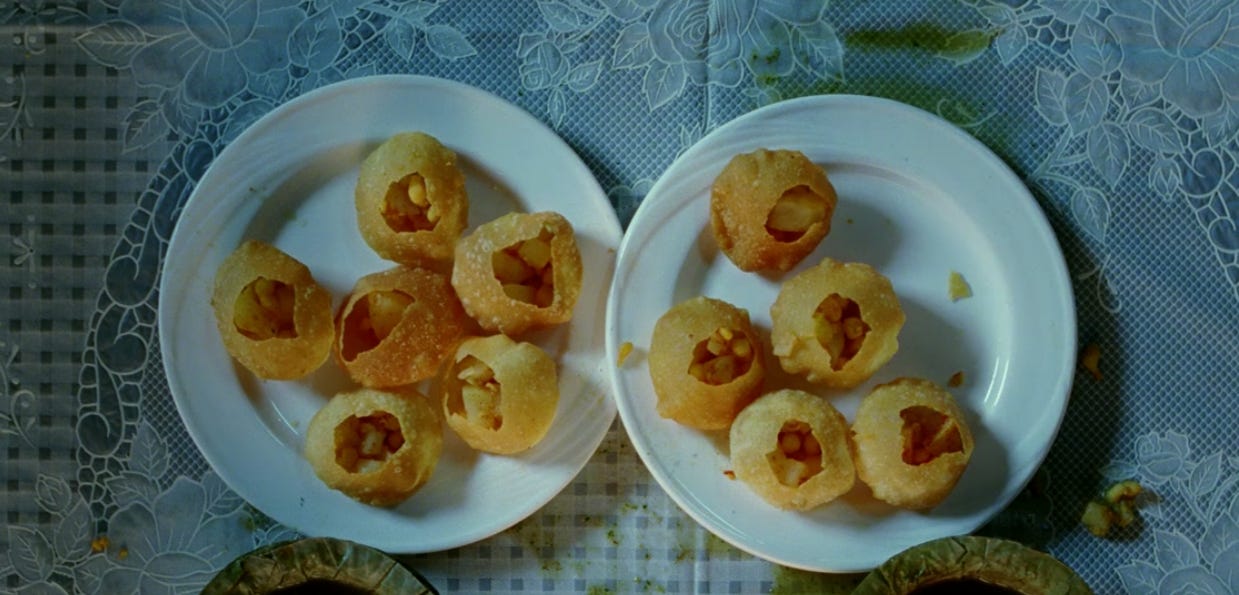 Next in Mongolia,
Elisa
(Rab Ne Bana Di Jodi is available on prime and youtube. Kid-appropriate, I think.)